Letters from Yugoslavia in Serbian
How does it feel to be a civilian these days in Yugoslavia. I have accepted to post these letters on "Kosovo99" website. I understand that these letters are for the Yugoslav people living outside Yugoslavia at this moment while NATO bombs are falling on Yugoslavia in order for them to know what their relatives and friends are feeling. Since we foreigners hardly understand how Serbs think, it was said that the letters if translated into English would be considered by us as Serb propaganda and for that reason they are posted in Serbian.
However, I urge all of you who are interested in their contents to find a friend who is from former Yugoslavia, Serb, Croat or Bosnian and they will be able to translate it to you since they all speak the same language.
Leon Chame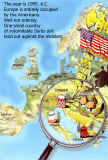 Grafiti na protestima u Jugoslaviji Neki od grafita:
@"Nismo sila, al` imamo stila"
@"Moj je vidljiv, ali ne pada"
@"Klintone napravi pauzu, detektor lazi ce ti eksplodirati"