Links to websites with news and extra information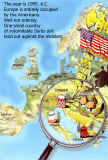 http://www.iacenter.org/bosnia/nbtoc.htm
Belgrade Academic Community's Daily Reports on War
http://www.originalsources.com Original Sources is dedicated to providing accurate, complete information from original sources.
http://www.transnational.org/sitemap.html Nordic board, multicultural advisory panel.
http://members.xoom.com/_XOOM/ggromozeka/aviation/index.htm
http://www.state.gov/www/regions/eur/ksvo_rambouillet_text.html
http://www.stratfor.com/crisis/kosovo Stratfor describes itself as "a private intelligence company, serving businesses globally." Their site is a good source of breaking news, but be aware of their strong pro-corporate bias.
http://www.serbianrelief.org This web site has been created with the help of Serbian Americans from all over the United States.